Posters present a large picture of the Hungarian-born Jew alongside the text: Lets not let Soros have the last laugh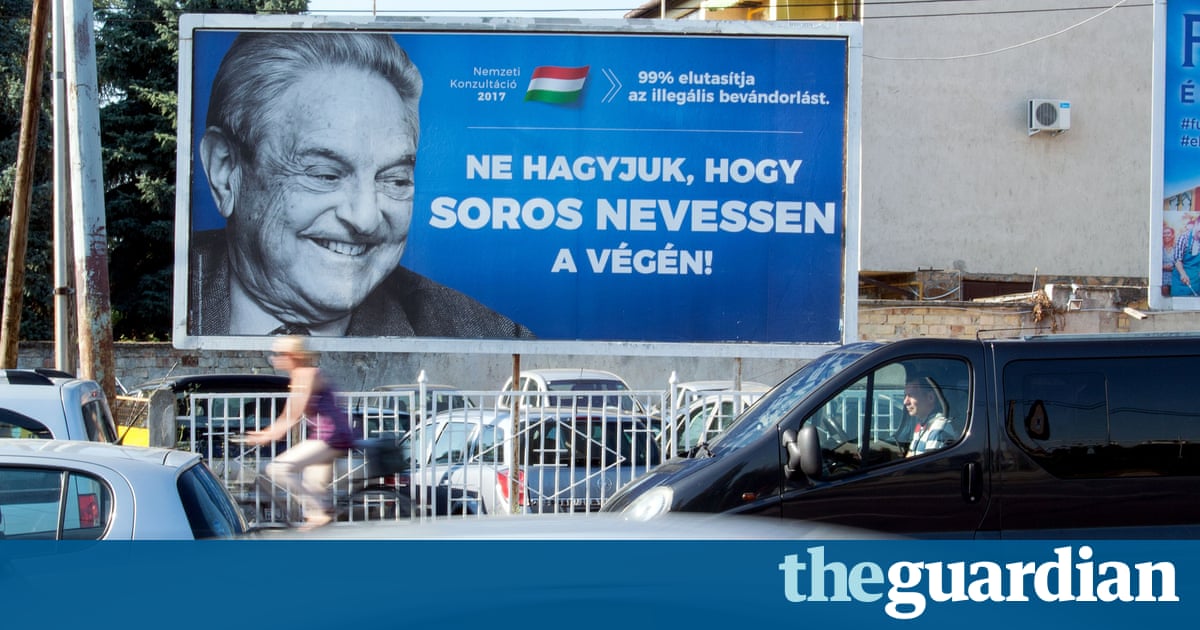 George Soros, the billionaire financier, has criticised an anti-immigration campaign run by the Hungarian government as antisemitic.
I am distressed by the current Hungarian regimes employ of antisemitic imagery as part of its deliberate disinformation campaign, the 86 -year-old said in a rare statement.
The posters used in the media campaign prove a large picture of the Hungarian-born Jewish emigre laughter, alongside the text: Lets not let Soros have the last laugh, a reference to government claims that Soros wants to force Hungary to allow in migrants.
Since the posters appeared on billboards and at public spaces around the country last week, as well as on television, several incidents of antisemitic graffiti such as Stinking Jew or Stars of David daubed on them have been reported.
Hungarys largest Jewish organisation, Mazsihisz, has called on prime minister Viktor Orbnto stop the campaign, with its head Andras Heisler writing that the poisonous messages harm the whole of Hungary.
Some opposition activists and citizens have also begun taking down some of the posters from billboards.
Soros, who has dual Hungarian-American citizenship, said he was heartened that together with countless fellow citizens the leadership of the Hungarian Jewish community have spoken out.
Earlier on Tuesday his spokesperson Michael Vachon called the campaign reminiscent of Europes darkest hours with clearly antisemitic overtones.
Those defacing the posters with graffiti( understood) the governments intent, he said.
The government has consistently and wilfully misrepresented Soross positions on migration and refugees, he added.
On Friday Orbn accused Soros of being a billionaire speculatorwho wanted to use his wealth and civil groups that he supports to settle a million migrants in the European Union.
Orban and government officials say that Hungary has a policy of zero tolerance of antisemitism, and that the poster campaign is about increasing awareness of "the member states national" security risk were imposed by Soros.
On Saturday, Israels ambassador in Budapest Yossi Amrani also criticised the poster campaign, saying it provokes sad memories but also sows hatred and fear.
But late on Sunday reportedly at the request of prime minister Benjamin Netanyahus office Israels foreign ministry issued a separate clarification that criticism of Soros was legitimate.
This said that while Israel deplores antisemitism, Soros endlessly undermines Israels democratically elected governments by funding organisations that defames the Jewish country and seek to deny it the right to defend itself.
Netanyahu is due to visit Hungary next week, the first visit by an Israeli "ministers " since the end of communism in 1989.
Make sure to visit: CapGeneration.com