Marc Kasowitz, who is advising Trump on the Russia investigation, sent profane and threatening emails to a US retiree who advised him to resign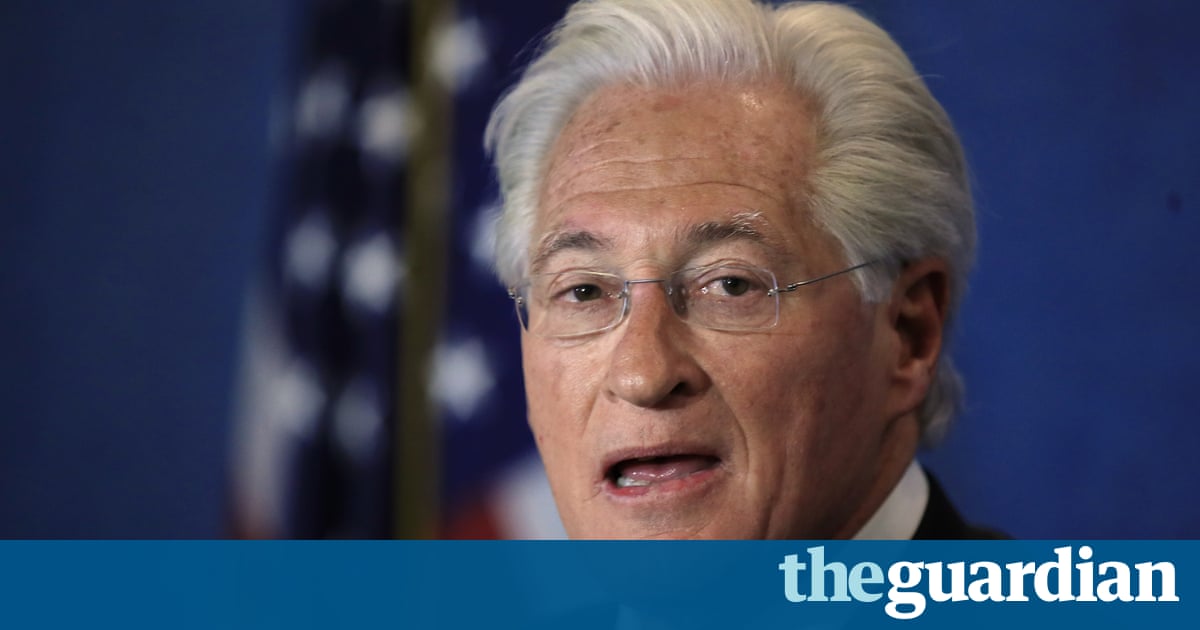 Donald Trumps personal lawyer intends to apologize after he sent a series of profane and threatening emails advising a stranger who had emailed him to Watch your back, bitch.
Marc Kasowitz, who is advising the president on the investigation into Russian interference in the 2016 election, sent the emails on Wednesday evening to a man who had emailed to tell Kasowitz that it is in your interest and the long-term interest of your firm for you to be removed from your position advising the president.
Over the next half hour, Kasowitz responded with four emails obtained by ProPublica the first of which read simply, F* ck you, including the asterisk.
A second email read: How dare you send me an email like that Im on you now. You are fucking with me now Lets consider who you are Watch your back, bitch( sic ).

Kasowitz provided a personal telephone number and pressured the recipient to bellow him, writing, Call me. Dont be afraid, you piece of shit.
In the final missive, Kasowitz referenced his own and the recipients heritage, writing, Im Jewish. I presume you are too. He added: I already know where you live Im on you. You might as well call me. You will see me. I promise. Bro.
ProPublica did not identify the recipient of the emails, but said that he was a retired public relations professional from the western United States.
Mike Sitrick, a spokesman for Kasowitz, said that Kasowitz planned to apologize, adding: While no excuse, the email arrived at the end of a very long day that at 10 pm was not over yet.
The person sending that email is entitled to his opinion and I should not have responded in that inappropriate manner, Kasowitz said in a statement. I intend to send him an email stating simply that. This is one of those times where one wishes he could reverse the clock, but of course I cant.
Kasowitz has for years represented Trump on issues including real estate, divorce, and allegations of fraud against Trump University. The New York attorney was thrust into the national spotlight when he was retained to serve as outside counseling for the president on the Russia investigations. In June, White House press secretary Sean Spicer announced a new policy of referring all questions about the ongoing investigations to Kasowitz.
ProPublica has reported aggressively on Kasowitz, including a 13 June article alleging that Kasowitz boasted to friends that he had played an important role in the firing of former US attorney Preet Bharara. On Tuesday, the independent investigative outlet published a lengthy article alleging that Kasowitz has not tried a security clearance and has fought with alcohol abuse, a report Kasowitz spokesman called false and defamatory.
According to ProPublica, it was after watching an MSNBC segment discussing the ProPublica report that the man emailed Kasowitz with his advice to Resign Now.
Also on Tuesday, the New York Times reported that Kasowitz is considering resigning from his role advising Trump amid disagreements over his strategy for handling the Russia investigations.
Sign up for the Minute email. Catch up on todays US politics news in 60 seconds
Make sure to visit: CapGeneration.com