The United States finished top of Group B after shutting out Nicaragua and are through to a Gold Cup quarter-final on 19 July in Philadelphia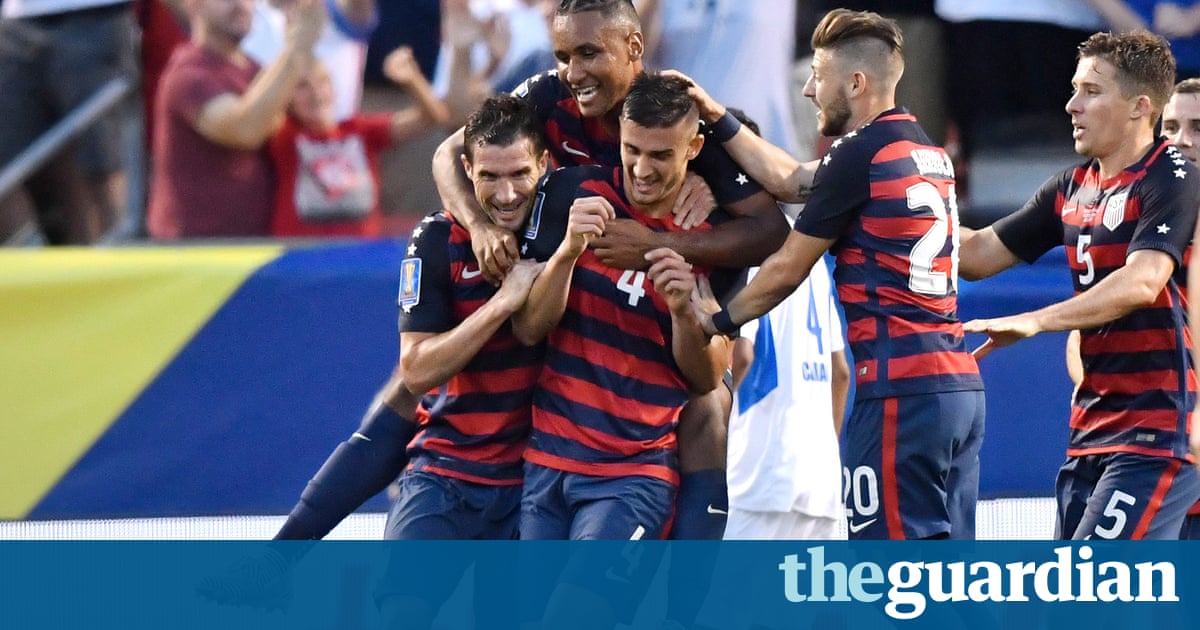 Matt Miazga scored on a closer-range header from Graham Zusis corner kick in the 88 th minute, devoting the United States first place in its Concacaf Gold Cup group with a 3-0 victory over Nicaragua on Saturday night.
Panamas 3-0 win over Martinique in the first match of the doubleheader entailed the US required a three-goal win to move back over Los Canaleros into first. But the Americans fought for long stretchings against Nicaragua, a team ranked 105 th by Fifa.
Joe Corona scored his first international objective in four years in the 37 th minute and Kelyn Rowe doubled the lead in the 56 th with his first international objective, but the US expended possibilities when Dom Dwyer and Corona took poor penalty kicks in the second half that easily were saved by Justo Lorente.
Nicarguas Luis Copete was expelled in the 86 th minute for his second yellow card and Luis Galeano was receiving treatment for an injury, giving the US had a two-man advantage when Zusi took his free kick from about 30 yards. Miazga, a Chelsea defender playing his first international match since May 2016, had an open header near a post and scored his first objective in three national team appearances.
The US and Panama both finished with seven phases and a plus-four goal change, but the Americans won the group bases on total goals, 7-6. The Americans have won their group in 13 of 14 Gold Cups, finishing second to Panama in 2011.
Next up for the US is a quarter-final Wednesday in Philadelphia against a third-place team from another group, likely Honduras, El Salvador or Jamaica. A second-place finish would have meant a US-Costa Rica matchup.
US coach Bruce Arena utilized a largely junior varsity roster for the first round but plans to add reinforcements from the varsity for the knockout phase. Goalkeeper Tim Howard and midfielder Michael Bradley watched the match from the stands.
For the first-ever matchup between the US and Nicaragua, Arena changed his entire starting lineup from Wednesdays 3-2 win over Martinique, giving goalkeeper Bill Hamid his first appearance since an exhibit at Ireland in November 2014. Arena has employed 22 of his 23 players in the tournament, all but goalkeeper Sean Johnson.
Alejandro Bedoya set up the first two US aims. Bedoya intersected to Corona, who took three touches to generate space for a shot that deflected in off Bismarck Veliz for Coronas third international goal, his first since scoring against Cuba and El Salvador in the 2013 Gold Cup.
Dwyer, attempting to join Alexander Rae and Eddie Johnson as the only players to score in their first three US matches, hit a waist-high penalty that Lorente dived right to save after Dwyer was brought down by Marlon Lopez.
Rowe, attaining his third appearance, scored after Bedoya intercepted a ball. Bedoya exchanged passes with Dwyer, then fed Rowe, who scored with the outside of his boot from inside the penalty area.
Corona took the second penalty after a handball was called on Daniel Cadena but took a weak kick down the middle.
Make sure to visit: CapGeneration.com