Former PMs glum expression in a couples selfie at the Wilderness festival in Oxfordshire indicates it was not to his liking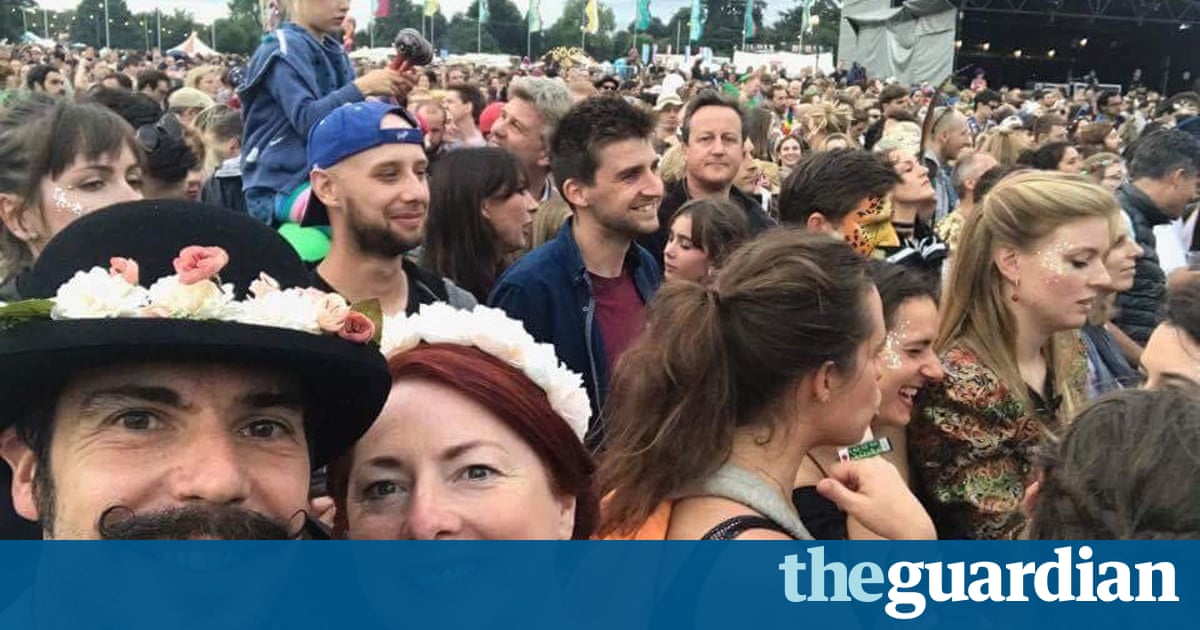 In a possible sign that he had taken inspiration from Labour leader Jeremy Corbyns Glastonbury appearance this year David Cameron was spotted at the upmarket Wilderness festival in Oxfordshire by unsuspecting festival goers.
The former "ministers " was seen in a selfie taken by Labour activist Vanessa Price and her husband. He seemed to be sporting an expression not dissimilar to that which he had where reference is resigned as prime minister in June last year.
Cameron was appearing immediately at the lens, while his wife, Samantha, seemed more concerned with the on-stage entertainment, which included the likes of Two Door Cinema Club, Bonobo and Grace Jones.
Price told the BBC: We took the selfie and then Steve looked at it and said, oh my God, I think thats David Cameron. I couldnt believe he was staring at the camera I dont think he was having a good time.
The Wilderness festival in Cornbury Park near the Camerons Oxfordshire home boasts a lakeside spa, yoga workshops and a Sunday Cricket match a far cry from the average celebration.
Bank of England governor Mark Carney was spotted at the same event last year wearing a glisten tattoo on his face as he took a breaking from the British economy post Brexit referendum. Unable to join him last year, since he was dealing with the fall-out from the Brexit referendum, Cameron seems to have seized the opportunity this year instead.
The Camerons appearance came as Conservative MP George Freeman announced plans for a Tory Glastonbury in September. The Norfolk MP is organising a one-day celebration of ideas in response to the popularity of Corbyns Glastonbury appearance in the hopes of boosting the partys dwindling grassroots support.
Perhaps Cameron is just warming himself up for the Conservative Glasto. With that expres, though, it does not look like hell be attending another festival anytime soon.
Make sure to visit: CapGeneration.com