Its time for Gareth Southgate to fell Joe Hart, Aaron Hughes exemplifies Northern Irelands ambition and Ben Woodburn has once again proved himself for Wales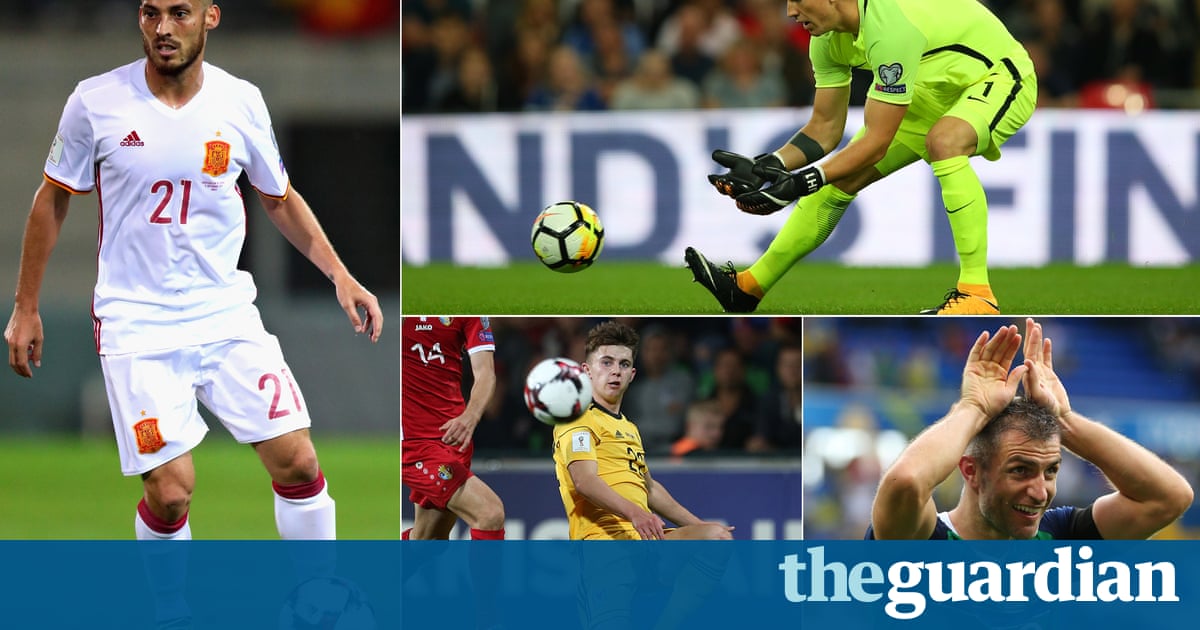 1) Time for Southgate to be ruthless and drop Hart
Before video games against Malta and Slovakia Gareth Southgate indicated no other goalkeeper had" staked a strong enough claim" to take over from Joe Hart. It seems a strange statement given the fine form and obvious talent of Jack Butland and Jordan Pickford. It is an oddity of the goalkeeping position that, while mistakes are always highlighted, it generally takes a run of howlers to lose your place. Sustained middling form, or the mild uncertainty that Hart has emanated for more than a year doesn't seem to be enough. Southgate missed a chance in the current violate to demonstrate a little ruthlessness and address this. In the event Hart failed to get a hand on the first shooting on target across the two games, Stanislav Lobotka's goal at Wembley poked past a starfish-pose-by-numbers England keeper. Tournament games come down to fine details, just as a goalie at the top of his powers can disguise many failings." Showing faith in your human" is one thing. Right now Hart looks like the last outpost of the undroppable celebrity player culture that blighted successive England squads. Barney Ronay
* Match report: England 2 Slovakia 1
* FA tells it can back up Dele Alli over one-finger salute
* Southgate kudoes Rashford and Manchester United
2) Veteran Hughes embodies Northern Ireland's determination
In the case of Northern Ireland statistics do tell an accurate tale of their remarkable achievement in finishing second in Group C and, in all likelihood, procuring a place in the World Cup play-offs. A record five consecutive wins, over 10 hours without confessing a aim, seven clean sheets in eight qualifiers- the finest defensive return in Europe- and beating the Czech Republic for the first time at Windsor Park on Monday with merely 28% possession; 72% possession countings for nothing when you do not difficulty Michael McGovern once in the Northern Ireland goal. It again underlines Michael O'Neill's outstanding organisation that the defensive record may proceed with an injury-hit back-line against the Czechs and San Marino. The is a lack of Gareth McAuley and Craig Cathcart heightened responsibility on the 37 -year-old Aaron Hughes in the double-header. A veteran who received his first international call-up almost 20 years ago excelled. His central defensive partner Jonny Evans reflected:" He was my human of the match against the Czechs but he's not get my champagne. He dragged me through the game. I was feeling it in the last half hour and here's this guy who's 37 operating past me to push out and clear the box. He inspired me to get through video games. He's a great role model ." Andy Hunter
* Match report: Northern Ireland 2-0 Czech Republic
* Evans says Manchester City interest spurred him on to improve
3) Woodburn again presents he is the real deal for Wales
Well, "hes been gone" and did it again. Ben Woodburn, the 17 -year-old Liverpool prodigy, scored the winning objective on his international debut on Saturday. In Moldova on Tuesday he provided a jet-heeled assist to give Wales a crucial breakthrough. The accuracy of his control while operating Vitalie Bordian ragged down the left flank was an indication of the player's pedigree, as was his cross that zipped along the six-yard line. Hal Robson-Kanu foresaw the ball, adjusted his body and threw his head at it, leaving the goalkeeper with no chance. Up until that phase, Moldova had defended deep and defended well, but fortune favours the brave and Chris Coleman went for it. In the first half his Wales team were stodgy. But in the second they came out with clear instructions to press higher. Fifteen minutes later and Woodburn came on. Ultimately with just over 20 minutes remaining Coleman paired Sam Vokes with Robson-Kanu and the pressure became relentless. It was a deserved outcome even if it took a moment of individual class to unlock it. Second place is now Wales' to lose. Paul MacInnes
4) Ireland must hope Hogan can have a striking impact
In a route the Republic of Ireland's defeat by Serbia was more deflating for their fans than the abomination in Georgia had been three days previously. Because against Serbia Ireland played close to the best that they can play but still were not good enough. They have scored two objectives in four home matches and Martin O'Neill told afterwards that he wished he could call on someone such as a young Robbie Keane. If such a player were to appear again, it would have little to do with the developmental efforts of O'Neill's employers. As it happens, O'Neill's striking options may be enhanced in time for next month's showdown with Wales: the Aston Villa forward Scott Hogan, having proclaimed for the country of his forefathers at the age of 25, could be parachuted straight into the Ireland team. A short-term fix to a deep-rooted problem? Paul Doyle
5) Syria's incredible run may not be over yet
Sometimes football's impact renders terms unnecessary and that was certainly the case when a Syrian television commentator broke down in tears after witnessing his country secure an Asian play-off place with an unlikely late equaliser in Iran. The Syria team's story is a complex one and perhaps not your standard feelgood affair; you may query whether they represent a regime or a nation but it certainly does no harm to admires the sporting accomplishment of a squad that has been forced to play its home games in Malaysia and was given scant hope at the outset.
The giant striker Omar Al Somah, scorer of that equaliser, had only this month returned from self-imposed international exile; he plays his football in Saudi Arabia and so does the gifted forward Omar Khribin, who is one of his continent's most exciting players and can seriously trouble Australia in next month's two-legged tie-in. More than anything, Syria are a proper team- tough, technically adept and wonderfully coached by Ayman Hakeem. The natural tendency is to suppose they have reached their limit but nobody who watched a few cases of their qualifiers will be in much doubt that they have a chance of beating Australia. The prospect of an intercontinental play-off against the US after that would be quite another matter; for now it is enough to savour what they have done so far. Nick Ames
* Syria reaching World Cup play-off with Australia after late equaliser
* Socceroos must face Syria after Saudi Arabia take finals spot
* Socceroos lose game of inches as scrutiny falls on Postecoglou
6) Is David Silva Spain's greatest ever player?
David Silva scored the pick of Spain's eight goals against Liechtenstein on Tuesday night, curling a left-footed free-kick beyond the reach of Peter Jehle as Spain recorded their highest ever victory away from home. The Manchester City midfielder, who is not a regular penalty taker for our own countries, has scored 33 objectives for our own countries* and sits fourth in the top goalscorer records for Spain's national squad behind three strikers: Fernando Torres( 38 ), Raul( 44) and David Villa( 59 ), an astounding return for a footballer renowned more for his creative nous than goalscoring prowess. Although there are no records available for the number of assistances Silva has provided on the international stage, it is almost certainly even more mind-boggling considering Spain's pre-eminence between 2006 and 2012 and the fact that he has notched up 66 in 223 Premier League appearances since joining Manchester City in the summer of 2010. Aged 31, he could yet overtake Torres and perhaps even Raul in the scoring charts and, devoted his country's successes during his pomp, is arguably a contender for the commendation of Spain's greatest player of any epoch.*( spotter's badge @giveittosilva) Barry Glendenning
7) Time for out-of-date Hampden to find its roaring again
A fascinating subplot to Scotland's crucial meeting with Slovakia next month relates to match venue. Hampden Park, once a venue afforded iconic status as Scotland conquered all before them, is now widely regarded as a relic the country can easily do without. The Scottish FA is known to be considering the abandonment of Hampden after it is used as a Euro 2020 venue. Three sides of the stadium are out of date, access is poor and acoustics similarly. The visit of Malta on Monday, while barely a marquee occasion, was against a horrendously flat backdrop. Such a scenario has become common. Conservatives will vehemently object to a Hampden exit. Players, too, might want to retain the appeal of their own nationals stadium rather than stimulating routine visits to Celtic Park, Ibrox, Tynecastle or Easter Road. The significance of the Slovakia tie entails a gripping atmosphere is to be hoped for. In its absence, a wider debate will ensue. Ewan Murray
* Match report: Scotland 2 Malta 0
* Strachan not astonished reversal of fortune
8) Salah takes Egypt to the verge of World Cup return
It has been a long, hard road back to football relevance for Egypt but they are tantalisingly close to a first World Cup appearance since 1990 and the identity of their inspiration is little astonish. Mohamed Salah has made a vibrant start to the season with Liverpool but, like the rest of his team-mates, was subdued during the course of its 1-0 defeat in Uganda last Thursday; that needed to be put right when the sides met again in Alexandria and he duly scored the win, his 30 th international aim in just 55 caps, six minutes in. But for the visiting goalkeeper Denis Onyango, Salah would have scored a couple more; "the worlds biggest" painting is that a home victory over Republic of the Congo next month, coupled with anything bar a Uganda win over Ghana, will volume them a place in Russia with a game to spare.
That is one of several tempting scenarios in a thrilling situate of African qualifiers that should, in many cases, go to the wire. Salah's club-mate, Sadio Mane, appeared to have set Senegal in the driving seat of a wide-open Group D with a late aim in Burkina Faso, but the Stallions hit back to draw and are the best bet for a new African presence at next year's tournament. Ivory Coast could hardly have expected the 2-1 home defeat to Gabon, three days after beating the same opponents 3-0 away, that has abruptly tightened up Group C. If Salah and Egypt keep their heads, they should at last banish such concerns to the past. NA
Make sure to visit: CapGeneration.com