US president and Japanese host devote fish a large feast on second day of formers five-nation tour of Asia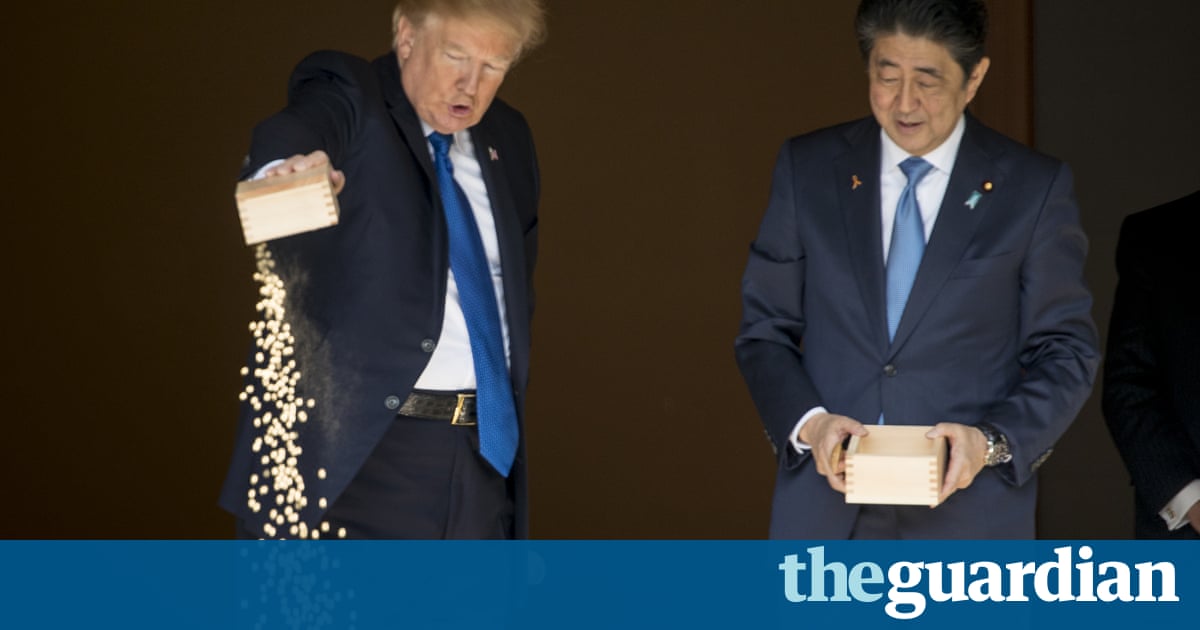 Donald Trump and the Japanese prime minister, Shinzo Abe, have taken a forceful approach to feeding fish on the second day of the US president's five-nation tour of Asia.
Standing beside a pond brim with colourful koi in the Akasaka palace in Tokyo, the two men began spooning out fish food before appearing to lose patience and emptying their wooden containers with a shake.
The palace's big collecting of koi have been viewed by a succession of world leaders, including Margaret Thatcher. It is not known whether the former British prime minister was as aggressive as Trump when it came to feeding the pond's inhabitants.
White House reporters, keen perhaps to pick up on a Trump gaffe, captured the moment when he upended his box on their smartphones and tweeted evidence of his questionable grasp of fish keeping. However, other footage made clear that Trump was merely following his host's lead.
Abe is considered grinning, as is a woman in a kimono standing to one side. Next to her, Rex Tillerson- perhaps grateful for a moment of comic relief after he was named in the Paradise Papers– could not squelch a chuckle, according to witnesses.
Some speculated that a poor palace employee would be dispatched to the scene to clean up the mess as soon as the two leaders disappeared inside.
Trump and Abe are not alone in misjudging the fishes' appetite. According to the Aquascape website, overfeeding is the most common mistake made by keepers of koi.
" This can attain your fish sick, and excessive quantities of trash that strains the limits of what can be biologically reduced, outcomes in a decline of water quality ," the site says.
This article was amended on 6 November 2017 to make clear that Shinzo Abe also emptied the contents of his container into the pond