Far from espousing the school run, most men are still trapped by rigid cultural notions of being strong, dominant and successful. Is it leading to an epidemic of unhappiness similar to the one felt by Betty Friedans 50 s homemakers?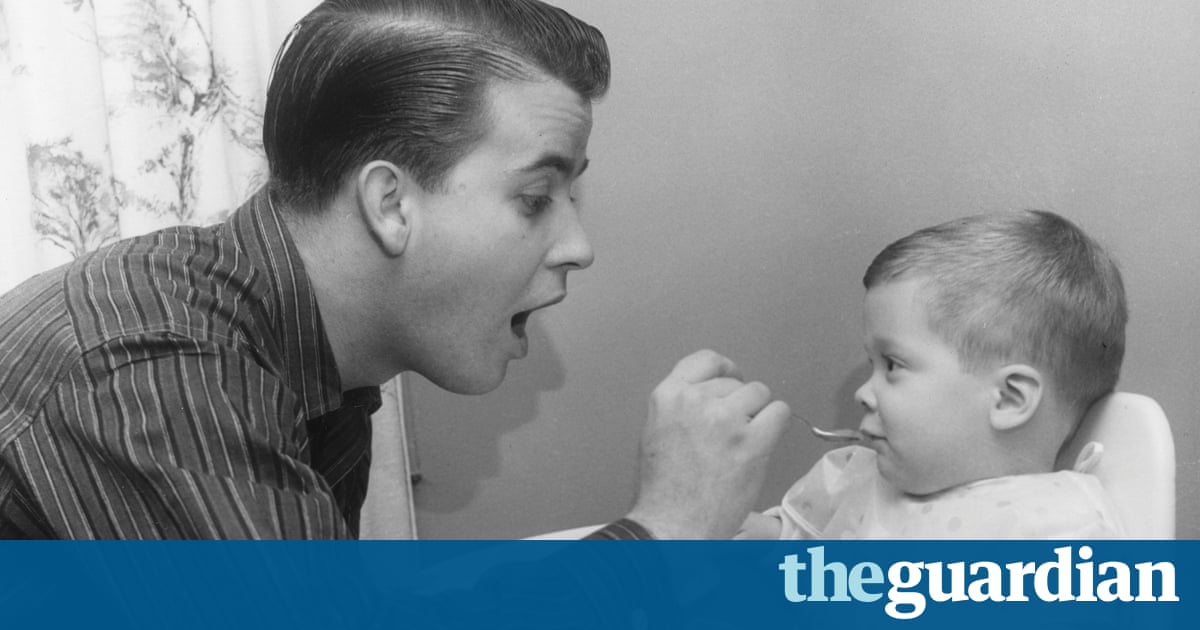 Back in the 90 s, it was all going to be so different. Not for our generation the lopsided approach of our parents, with their quaint postwar the idea of father-breadwinners and mother-homemakers. We would be equal; interchangeable. Our young lady would run companies, embassies, hospitals and schools, while our young men , no slouches themselves, would punctuate their careers with long, halcyon spells dandling newborns and teaching toddlers how to build tiny volcanoes out of vinegar and baking soda.
That equality would have formidable knock-on effects. The gender pay gap would constrict. Sexual harassment wouldn't vanish, but decoupling professional power from gender would do a lot to erase it from the workplace.
A generation or so later, it is clear: this is the revolution that never happened, at the least not in the UK. The home-dad innovators among us who once flamed a trail , now look on aghast as successive waves of men scurry past and say:" Right. Back to run ."
What happened? Latest statistics for England demonstrate more than 80% of fathers still run full period, rising to virtually 85% for papas of very young children. This rate has hardly changed for 20 years. The ratio of part-timers has flatlined only above 6% throughout this decade( having risen through the 90 s and early 00 s ). Just 1.6% of men have given up run wholly to take care of the family home. New rights for fathers to share parental leave with moms have poor take-up rates.
You can glimpse this paternity gap at 3.30 pm on weekday afternoons at school gates up and down the country. Far from being overrun with gaggles of enlightened humen in clothes covered with baby sick and badges saying " World's greatest dad", the father quota is, in my own limited experience, disappointing. There are often more grandparents doing the pickup than dads.
At the same time, there is no deficit of surveys discovering legions of men saying they want to find more time for family life. So exactly what he stopping them?
In 1963, The Feminine Mystique, a seminal volume by Betty Friedan, helped launch the second wave of feminism by positing that American females faced" a problem that has no name ": they had basically become typecast as uber-feminine moms, home-makers, cake bakers and sexual slaves to their spouses. Forcing girls to live up to this idea of femininity left an entire generation depressed, frustrated or hooked on Valium.
The question is this: 50 years later, are humen facing their own" problem with no name", a" masculine mystique" which imposes rigid culture notions of what it is to be male- superior, dominant, hierarchical, sexually assertive to the point of abuse- even though society is hollering out for manhood to be something very different?
Men who do change their working lives to accommodate their children generally say it can feel tough, lonely, incongruous, even emasculating. When, 15 years ago, I gave up run wholly for a year to do childcare, it took a while to get used to being the only daddy in the park; the strange human arguing with a difficult child outside the library on a damp Tuesday morning. People stared.
Make sure to visit: CapGeneration.com