Refugees report they have been told to hand over phones and go within hours as journalist and refugee Behrouz Boochani arrested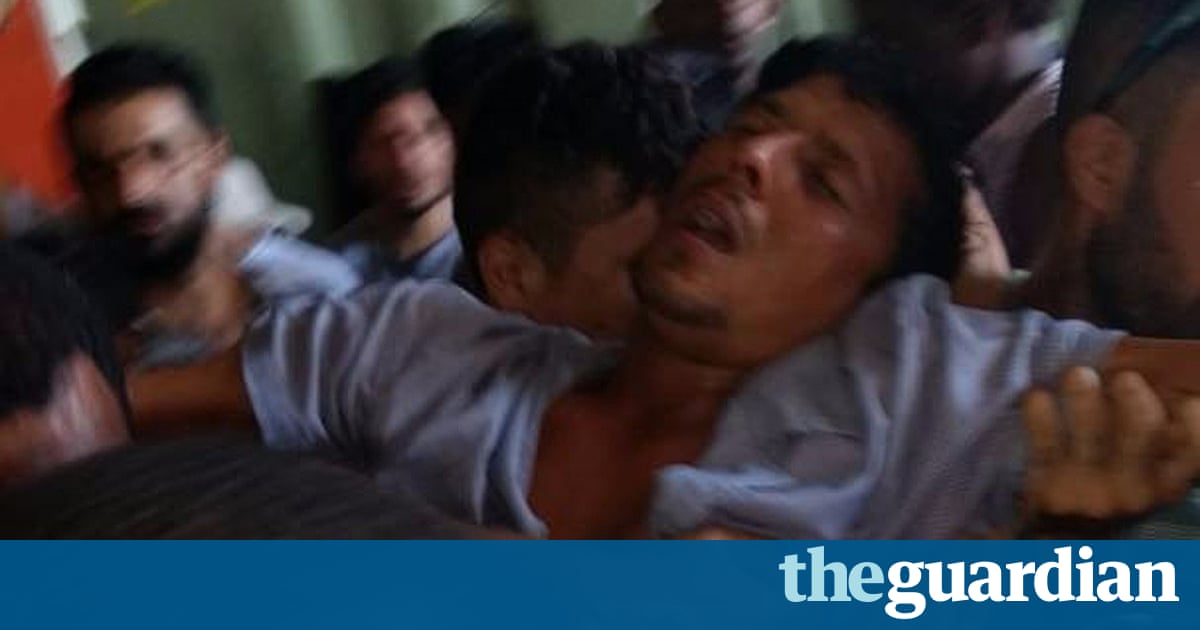 A police operation is currently underway on Manus Island, with Papua New Guinean police and immigration officers entering the former detention centre in an effort to move detainees out, more than three weeks into a degenerating humanitarian crisis.
Refugees inside the centre have reported large numbers of officers, including the paramilitary police mobile squad, have entered and given them an hour to leave. The officers wailed at detainees and demanded they hand over their phones.
Refugees described police as intimidating and aggressive as they dismantled structures and hurled away refugees' belongings. One policeman was considered carrying a large bush knife, which are common on Manus.
A video livestreamed from inside the facility showed men chanting" human rights help us, they want to kill us", and two men apparently unconscious. Walid Zazai, filming the scene, said it was a medical emergency but they had no assistance." We don't know if he had a heart attack because he had previously problems ," Zazai said of one.
The second unconscious human had epilepsy, he said.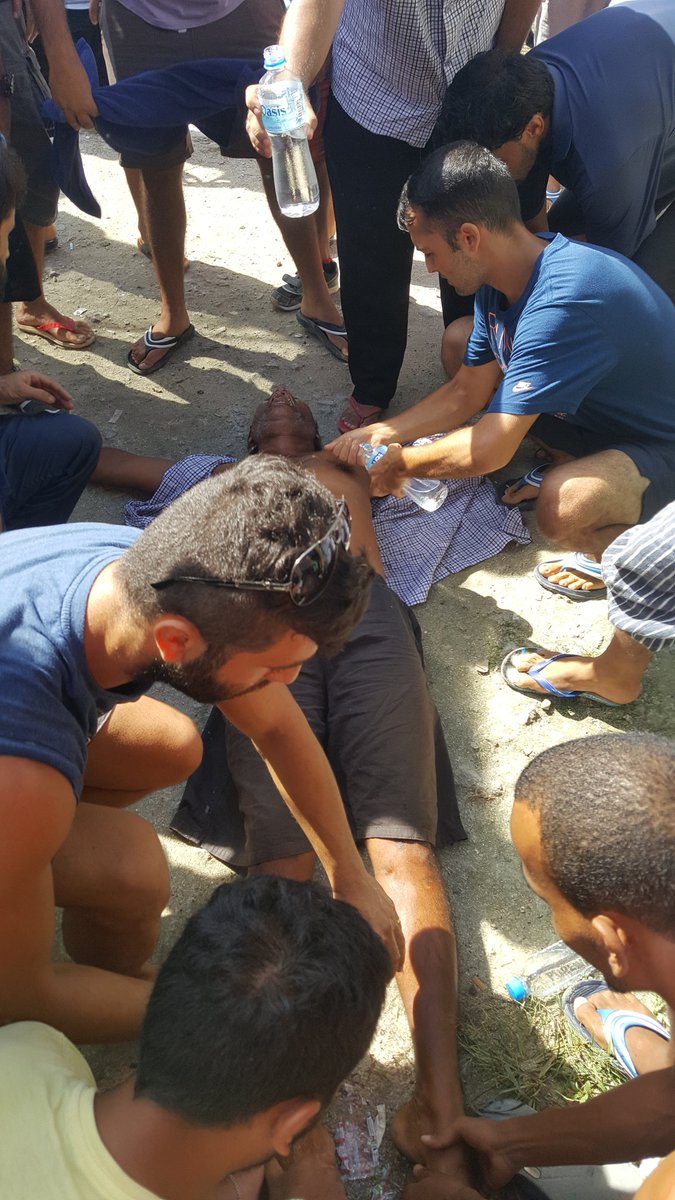 Iranian journalist and refugee Behrouz Boochani was arrested as police and immigration officers swept through the camp, destroying furniture, property and food.
Footage demonstrates Boochani being led away, held by two uniformed policemen, and surrounded by several others. He does not physically resist.
Other refugees said police were specifically looking for him.
Boochani has been the most outspoken proponent for the refugees held on Manus Island, filing reports regularly for the Guardian and other news outlets and giving interviews with media across the world.
On Thursday morning Australia's immigration minister, Peter Dutton, corroborated a" police operation" and accused the detainees of junking it.
" I think it's outrageous that people are still there ," he told 2GB radio." They've junked the facility, they're living in squalor ."
" The Australian taxpayers have paid about $10 m for a new facility and we want people to move ."
He likened the situation to building a new house for tenants who refuse to move in.
Dutton's repeated claims that the alternative accommodation divisions are ready and suitable for detainees have been consistently debunked by observers and published videos and photos of blocked lavatories, bathrooms without water, and buildings still under building. Detainees are systematically claimed they are not safe in the new housing in Lorengau, citing frequent violent attacks and a lack of security.
The prime minister, Malcolm Turnbull, recurred the messages of his immigration pastor, and said the refugees should leave the centre and go to the alternative accommodation where "several hundred" had already moved.
" They should heed the law and the lawful authorities of Papua New Guinea ," said Turnbull." There are alternative facilities that have been made available with food, water, security, and medical services ."
Turnbull also said those inside the centre were hoping to force the Australian government into bringing them all to Australia." We will not be pressured ," he said." Our perimeter security, the integrity of our borders is maintained by my government and we will not outsource our migration policy to people smugglers ."
Some refugees have taken shelter on roofs inside the decommissioned detention centre. Some had been sleeping on top of shipping containers, in expectation the police would move in.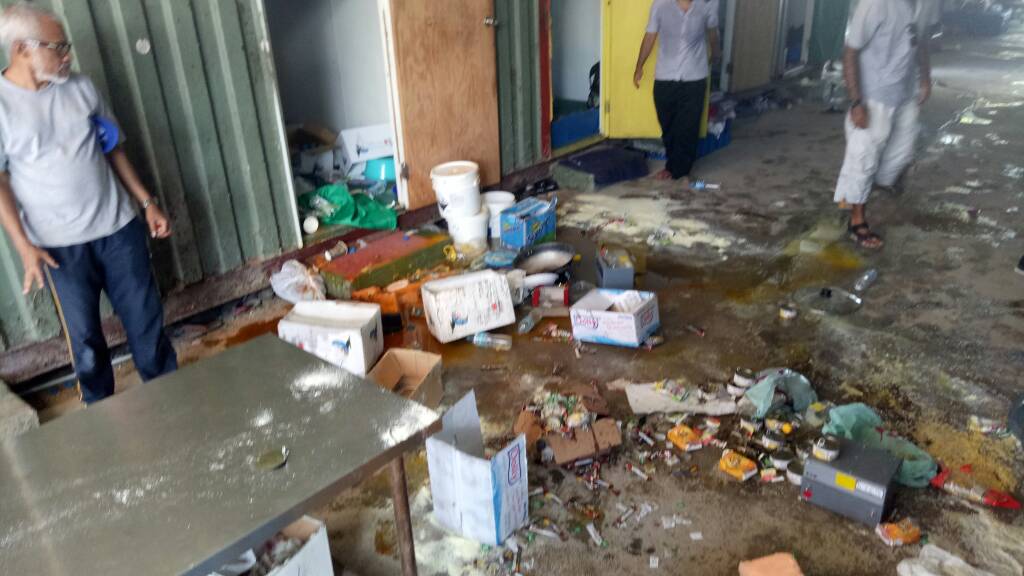 Before his arrest, Boochani reported from inside the centre that immigration and police started searching rooms and telling people:" Move, move ," and," You only have an hour to move ."
Boochani said some refugees were constructing barriers to halt police progression, others were hiding.
He added:" They are destroying everything. Shelters, tanks, beds and all of our belongings. They are very aggressive and put our belongings in the rubbish bins. The refugees still are silent are watching them so scared.
" The refugees are sitting peacefully and immigration and police are asking them to leave the prison camp. The refugees are only listening and altogether silent. They are talking on the microphone and hollering' move, move '."
Make sure to visit: CapGeneration.com