Sergio Agero, Vincent Kompany and David Silva scored the goals as Manchester City beat hapless Arsenal 3-0 at Wembley for Pep Guardiolas first City trophy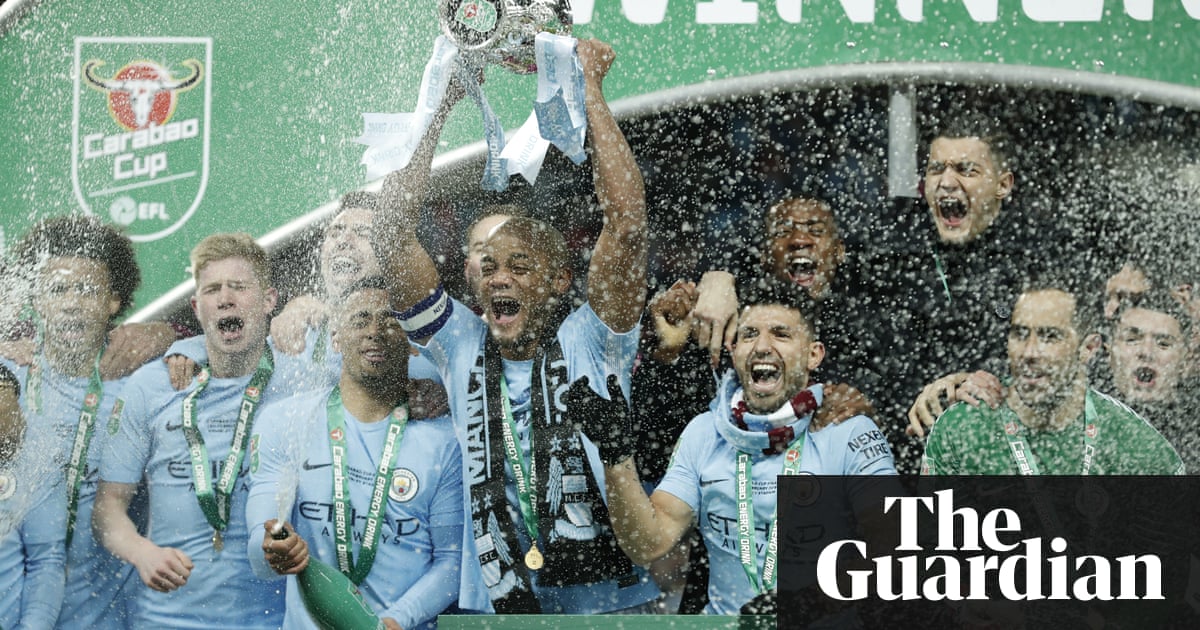 At the final whistling Pep Guardiola carried the air of a human who was perfectly accustomed to these various kinds of occasions. He espoused his staff, he clasped the hand of the lose director, Arsene Wenger, and then he made his way on to the pitching calmly to congratulate the players who had given him the first trophy of his Manchester City years.
The first of many, one assume, even if Wigan Athletic blew a gaping hole in the theory that Guardiola's team could win the plenty this season. A treble is still on, however, and the Premier League might as well be engraved with their name, given the style City have turned the title race into a procession. Guardiola's men will have to play better than they did here if they are to join the listing of Champions League wins. Yet it was still another occasion to suspect the Abu Dhabi masterplan- target: worldwide dominance- is gradually coming together.
In the process it was also a stark reminder for Arsenal about how far they have fallen behind the elite. Wenger has still not won the League Cup during 21 years as a administrator in England and Arsenal now have the unwanted record of losing six finals in this rivalry. Nothing, though, will be more galling for Arsenal than the realisation it was they who are applied to dismantle teams this style. They appeared what they are: 27 points short of City in the league, carrying far too many passengers and led by a administrator whose peak years can feel a long time ago.
Superior as City were, there is even a reasonable argument that Guardiola's side did not reach their more exhilarating peaks. Kevin De Bruyne can pass the ball more imperiously than he did here. David Silva was eight out of 10 when frequently it is nine. Guardiola said he was unhappy with his team's first-half performance and , no kidding, there were even rumours De Bruyne had kicked one pass out for an Arsenal throw-in. Maybe that explained why Guardiola was not dancing on the pitching afterwards.
Ultimately, though, City did not have to be at their absolute best when their foes, to quote Gary Neville in the television gantry, were "spineless" and there was a mass stoppage in the Arsenal end after Silva had drilled in the third objective. Sergio Aguero's 30 th aim of the season had given City an 18 th-minute lead, after some dismal defending by Shkodran Mustafi, and there was never any doubt that it would be Vincent Kompany lifting the trophy once the captain had stabbed in the second aim shortly before the hour.
Make sure to visit: CapGeneration.com