Premier League leaders followed up their Carabao Cup final win with another commanding showing and another 3-0 win in front of a half-full Emirates Stadium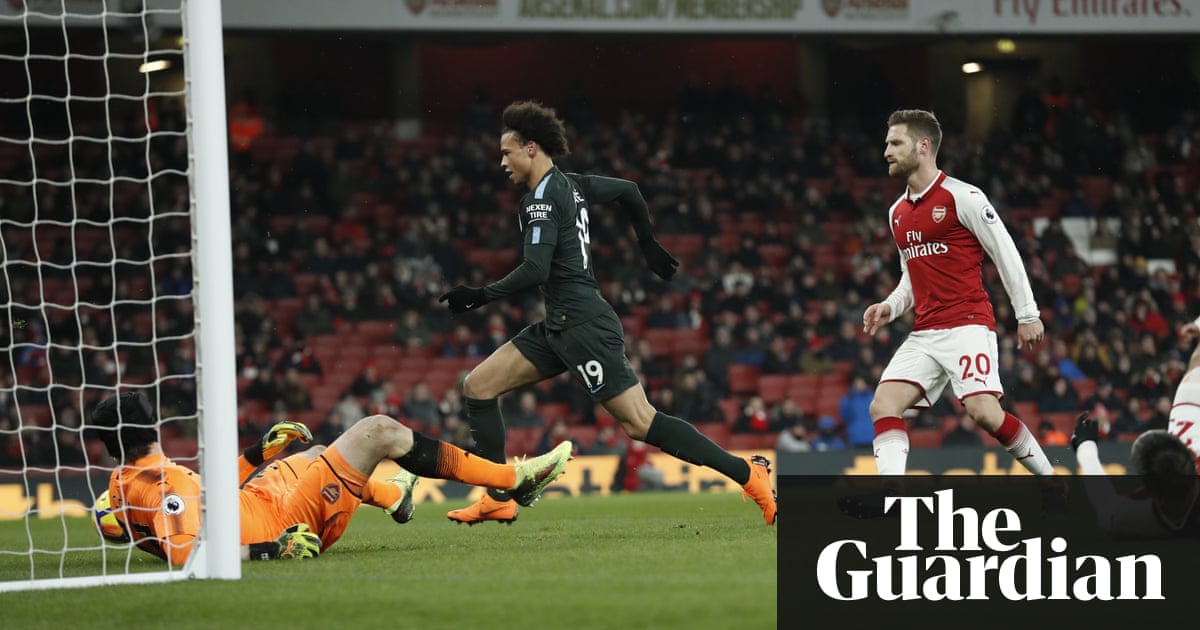 The countdown has started. Manchester City now need just five wins from their remaining 10 games to procure a third Premier League title in seven years. If everything runs as serenely as it has done for most of the season, they could sew it up at Tottenham Hotspur on the night of Saturday 14 April. Circle it in your diary. It "wouldve been" coronation of a superbly slick and worthy champion team and the latest layer to Pep Guardiola's managerial legend.
As for Arsenal, a more macabre countdown is in develop. Arsene Wenger has pledged to fight into next season- the last on his managerial contract- but nobody believes he can stay beyond the summer. On this evidence, his players are the principal naysayers.
After the 3-0 humbling at City's hands in Sunday's Carabao Cup final, they needed a performance to restore a measure of pride. Instead they got another one of those 90 minutes when their fragility was exposed in glaring fashion.
Arsenal have not lost this heavily at home to City since they dropped the Woolwich from their name, but there was nothing astounding about research results. Their self-belief has come to feel non-existent and the manner in which they were picked off by City in the first half reflected the sense of drift.
Leroy Sane made the difference. The City winger helped set up objectives for Bernardo Silva and David Silva before he scored the third himself and Arsenal were left to consider a 30 -point chasm that please open between themselves and their opponents.
It was an occasion when the home subsistence appeared to vote with their feet. The Emirates was half-empty and at kick-off hour there was the feel of an early round beaker replay. The stinging cold was a factor but- on paper, at least- this was one of the showpiece fixtures of the season. The low attendance laid bare the advocate disenchantment.
Wenger's team had actually started well. With Aaron Ramsey prominent, they hustled and probed. Ramsey cut back a cross that made Vincent Kompany and forced Ederson into a smart save while Henrikh Mkhitaryan also ran the City goalkeeper.
But it took only one flicker from City to see them in front and, very quickly, Arsenal's confidence disintegrated." You go up by the stairs, you go down by the lift ," Wenger said of the difficulty in building faith and the ease with which it can slide.
Arsenal's movement and spontaneity abandoned them, but not nearly as perceptibly as their resolve at the back. It felt as though City would score with every forward thrusting before the interval.
Sane was the catalyst. Showing his balance, control and acceleration, he left three Arsenal players for dead before working it wide right for Bernardo Silva. Sead Kolasinac decided to show the winger inside, on to his favoured left foot, and the finish was curled beautifully into the far corner.
Arsenal tried to look forwards and they had half-chances in the first half. But they were cut to shreds on the counterattack and, if "its easy" wince at the defending, it was also pertaining to scrutinise the absence of defensive midfield encompas. Arsenal were grotesquely open.
That said, City's cohesion and ruthlessness was actually something. Sane was the designer of the second aim, dropping his shoulder to destroy Shkodran Mustafi before squaring for Sergio Aguero. He touched through for David Silva, who fired high inside Petr Cech's near post. City's third came with indecent haste. Aguero spun clear and they ran the ball with precision via Kevin De Bruyne and Kyle Walker to Sane, who had got in on Hector Bellerin's blindside. He finished almost apologetically.
Aguero ought to have added a fourth before the interval, merely to be denied by Cech, and there were the inevitable boo from the home mob at half-time. A small segment of the Arsenal support chanted that their players were not fit to wear the shirt.
Arsenal even hurled in a penalty miss early in the second-half- Ederson springing to his left to deny Pierre-Emerick Aubameyang, after Nicolas Otamendi had polluted Mkhitaryan- and it would have been worse for them had Cech not saved from Aguero on 78 minutes. The stadium was practically empty of Arsenal fans at full-time but those who did stay jeered the players as they left the field. It felt like the end for Wenger.
Make sure to visit: CapGeneration.com