The Spurs manager has in the past changed tactics to take account of Chelseas gameplan but a switch balance of power was shown by his refusal to do so on Sunday and winning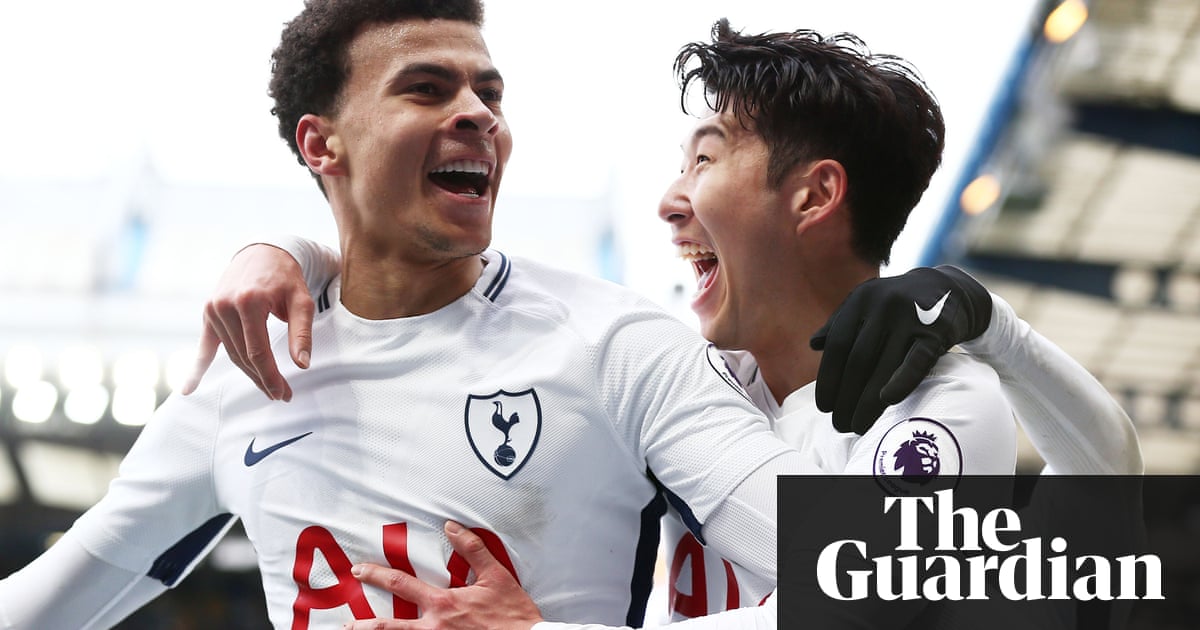 Progress is never an easy thing to chart in football. To speak of points or goals or positions or even trophies can seem a little reductive, too contingent on situation or adversaries to offer an entirely accurate reflection. It's unlikely Tottenham will finish second this season as they did last, and they may not even finish third as they did in 2016. Even if they win all seven remaining games, they will not achieve the 86 points they racked up last season. And yet the sense is of progress. Another means of measurement, then, is involved. Tottenham's development can be measured out in Chelsea games.
Five times now Mauricio Pochettino has faced Antonio Conte. All five have been tight, intriguing games, but the balance has changed. In November 2016, Tottenham went to Stamford Bridge and set up in a 4-2-3-1 against Chelsea's 3-4-2-1. Then too Christian Eriksen scored with a ferocious shot from outside the box, but Pedro equalised before Diego Costa laid on a winner for Victor Moses.
In January last year, at White Hart Lane, Pochettino changed. He matched Chelsea shape-for-shape, 3-4-2-1 for 3-4-2-1 and insured his side overpower Chelsea, winning 2-0 as Victor Wanyama and Mousa Dembele had the better of a tumultuous midfield battle with N'Golo Kante and Nemanja Matic. The FA Cup semi-final three months later brought a similar match-up of formations but Son Heung-min never appeared comfy as a left wing-back, confessing a penalty with a clumsy fouled on Moses as Chelsea won 4-2 despite Tottenham having had the bulk of the play.
That was enough to force-out Conte to change for the league meeting at Wembley at the beginning of the season as he withdrew one of his inside-forwards into a deeper role, utilizing David Luiz in midfield in a 3-5-1-1 that seemed designed to deny space to Eriksen and Dele Alli. It was a grim, functional Chelsea, one heavily reliant on Eden Hazard for imagination but it withstand pressure from a Spurs side fighting a little for rhythm and won thanks to a Marcos Alonso free-kick and then a late win from the same player.
The shape, though, has not brought Conte much joy since, the focus on Hazard constructing Chelsea a little predictable, and so the 3-4-2-1 has returned as the default since January. What was significant on Sunday was that Pochettino felt no need to alter his approach to face it, use a 4-2-3-1, just as he had in the first of the five meetings.
Chelsea's wing-backs remained an issue; Totenham never seem quite to have got to grips with them. Alonso's late runnings were a persistent problem, most notably leading to the first-half attempt he had ruled out for offside when he seemed not to have been picked up. It was Moses, though, who had the greater impact, seeing an alarming amount of space, which led to the Chelsea goal.
That seemed a consequence of the route Eriksen floated inside, which perhaps was a risk worth taking, both because it entailed the Dane got into more dangerous positions and because it entailed Tottenham often outnumbered Chelsea three-on-two in central regions. As video games wore on, Eric Dier increasingly fell deeper, becoming almost a third central defender which in turn permitted the full-backs to push higher, engaging Moses and Alonso higher up the pitch.
But the game, really, was won less through positional tweaks than through the energy and snap of Tottenham's counter-pressing. It brought the first goal but more importantly it stifled Chelsea. Conte's sides had won the last two sessions because of the pace and effectiveness of their transitions; here they were notable by their absence. Pochettino was able to revert to the shape he had deployed early last season and, this time, his side had the aggressivenes and organisation to impose themselves. Chelsea, it's true, are not the side they were then, but it's a trade mark of Spurs' advance that they could dictate the terms.
Make sure to visit: CapGeneration.com